As an avid mid night muncher, I am constantly searching for new food products that taste amazing but don't ruin my so called "Diet". Recently I stumbled across an amazing chip that, in my opinion is better than Doritos or Fritos and to boot their healthier too! (drum roll please) They are perfectly named "The Better Chip".
On a frenzy, I tasted all The Better Chip's offerings and wow, here's the run down: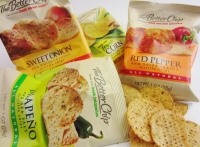 Jalapeno- for those who love a little kick- you can actually see chunks of jalapeno in each chip!
Red Pepper and Salsa Fresca- Tasty with a nice smathering of flavors of Red Pepper and Salsa. You don't need salsa here.
Fresh Corn with Sea Salt- A simply delicious corn chip that could be eat with anything from Nachos to Chili!
Sweet Onion and White Cheddar- possibly my favorite, definitely tastier than it's Doritos Nacho Cheese and your fingers don't turn orange after eating!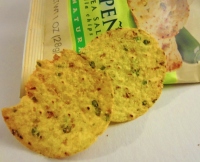 The health stats look like this: gluten free, made in nut free environment (nut allergic people awesomeness!), contains no animal bi-products, lactose free (except for the Sweet Onion Variety), non GMO (genetically modified organisms) and 40 % fresh ingredients…. sounds pretty amazing to me!
Check out these bomb-diggaty chips! It's a fairly new product on the market that I found at Shoprite, check out THE BETTER CHIP website for availability.