As more people discover the power of kale, there are half assed tasting Kale snacks littering the shelves of every grocery store and corner bodega. We've found a Spinach & Kale chip with Sea Salt that takes the yummy prize for all Kale snacks! Meet The Better Chip's Spinach & Kale with Sea Salt chip…. all inside a tasty corn chip, that is GLUTEN free, NO GMO, vitamin rich and most importantly super tasty crunchy chip. Try it out!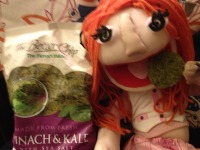 The Better Chip is found at most Health food stores (ie. Whole Foods) and tons of grocery stores!
Check out The Better Chip here!