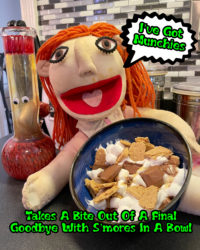 Mary Jane gets cancelled and formally apologies to the public. She makes S'MORES IN A BOWL for her final recipe. Featuring clips from 18 years of I've Got Munchies episodes.
MNN Air Dates
7/11/2022 and 7/25/2022
Credits
Thank you all who worked on the show over the past 18 years. It wouldn't have been possible without you!