As a stoner, you search for new delicious snacks to fill your Munchies craving. On a recent trip to Momofuku, I stopped by it's adjoining Milk Bar. Everything on the Milk Bar Menu sung to me: Cookies, Pies, Cakes, truffles, Pork Buns and milk…. but not just any milk, Cereal Milk. It's milk made with cereal essence tasting like the milk left over in your bowl after enjoying a sweetened corn cereal. It's not overly sugary but subtle in the cereal flavoring which invokes an instant flashback to a childhood breakfast. The great part, you can get this cereal milk, as milk, soft serve or as a milkshake.  Simply Munchtastic. I thoroughly enjoyed my cereal milkshake and moved on to taste the amazing cookies that screamed to me.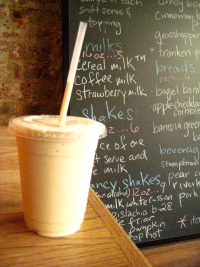 There are 6 cookies- Compost Cookie (made with pretzels, potato chips, coffee, oats, butterscotch, and chocolate chip), Chocolate-Chocolate Cookie, Blueberry and Cream Cookie, Peanut Butter Cookie, Corn Cookie, and Cornflake- Marshmallow- Chocolate Chip Cookie. I tried them all and was disappointed by none. The Compost Cookie, subtly salty with tons of textures of both crunchy and chewy that dazzled in my mouth with a coffee/chocolate flavor lingering on my tongue. The interesting Chocolate-Chocolate cookie had chocolate crunchy crumbs hidden within the cookie giving it a new layer of taste. The Blueberry + Cream Cookie with dried blueberries and milk crumbs seemed like a chewy cookie version of a blueberry pancake (sans maple syrup). If you want something not so sugary, the Corn Cookie is both soft and smooth reminiscing of a delicious corn bread. The peanut butter cookie is a solid classic with a peanut brittle texture surprise. But my absolute favorite, the Cornflake-Marshmallow-Chocolate Chip Cookie; its soft in the middle and crunchy on the edges which brings the best of both worlds. All of these cookies could easily satisfy the any type of Munchies out there.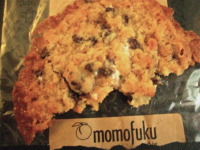 Located in both the East Village and Mid town in NYC, Momofuku Milk Bar is open til Midnight for that late night snack before bed. I will definitely return, but next time will try the some slices of pie!