After a recent viewing of the much loved "Ghostbusters" movie, I decided to Google Stay Puft (that was the brand of the marshmallow man). My Google search resulted in the discovery of Stay Puft Caffeinated Marshmallows! I've always had a crush on the Stay Puft Marshmallow Man, as he was perfect in every way: sweet, big and super soft but this is another thing to make that Marshmallow Man oh so more desirable.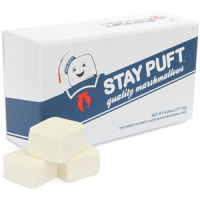 Not only are they caffeinated but they are gourmet and totally collectible for those Ghostbuster fans. The applications for these marshmallows are endless. Think about it: caffeinated Rice Krispies Treats, caffeinated Smores, Hot Chocolate with a rush of caffeinated marshmallows, or anything! My hope is they could make cereal marshmallows with caffeine! That would be the best wake-up ever!
You can find these dangerously delicious and caffinated marshmallows at ThinkGeek.