As a Munchateer, I love giving gifts of the edible variety. Everyone gets hungry, so why not give food? Here a few things for those who get the munchies too!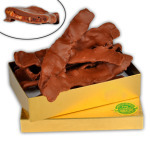 Chocolate Covered Bacon– a salty and sweet treat!
Bag of Cereal Marshmallows– like Lucky Charms Marshmallows
Hot Chocolate Sticks– swirl these belgian chocolate sticks into hot milk… Yum!
World's Largest Gummy Worm– As seen previously on Munchies Blog
Doughnut To-Go– A carrying case for your doughnut!
Ice Cream Cookie Sandwich Ottoman– For those who want to take munchies to the next level!
Perky Jerky– beef jerky with guarana to boost your energy level!
Good Luck Shopping!