It's that time again, folks! Our Jenn Dodd from Jenneral Assembly be hosting a night of character-based comedy with some of New York's favorite comedians, sketch performers, and actors. Identity Theft is a quirky, monthly show celebrates the art of comedians taking on alter egos in the vein of Andy Kaufman's 'Tony Clifton'.
This month's line up: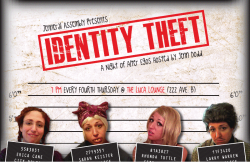 * Pamela Jones
* Andrea Alton
* Tim Girrbach
* Sharon Jamilkowski
* Livia Scott
& my favorite heckler (and yours!) Tom Lorenzo!
And as always, audience: WEAR A COSTUME, WIN A PRIZE. I seriously have prizes, y'all…
Come for laughs, stay for drinks & tell your friends!
Thursday, September 22nd
Identity Theft @ Luca Lounge
222 Avenue B (between 13th & 14th)
7 PM. FREE!