Check out the March edition of "Buttski & Glasscock's New Talent Blow Out" show filmed at the Peoples Improv Theater in New York City on "I've Got Munchies Presents…"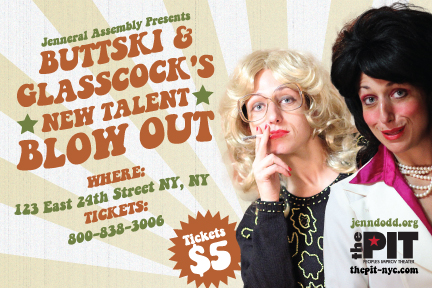 Airing on Manhattan Neighborhood Network:
Part 1- May 27th, 2013 at 11pm
Part 2- June 10th, 2013 at 11pm
Each month the Buttski and Glasscock Talent Agency brings you the best of the worst in the most pure, yet eccentric, talent this small town has to offer. As only two career-savvy former show girls can, Buttski and Glasscock comb through Craigslist ad after Craigslist ad looking to breed new talent.
This month we welcome some seriously ALL-STAR character comics…
*Hosted by the talented Jenn Dodd
*Jenn Wehrung
*Katlyn Carlson
*Andrea Alton
*Becky Yamamoto & Tanisha Long
And, of course, our celebrity panel… Mr. Johnny Depp (Ryan Farrell), "Southernprepper316" (Steve Sidell) from season 2 of "Doomsday Preppers" on the National Geographic Channel and a famous celebrity biographer (Steve Soroka)!