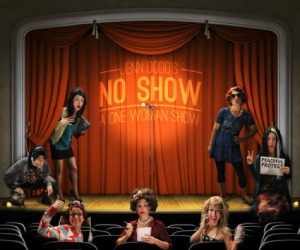 One of our funny buddies and video contributor to I've Got Munchies, the talented Jenn Dodd, needs our help! Coming this October at Stage Left Studios in New York City, Jenn has put together a menagerie of funny characters in her new show "No Show: A One Woman Show"…. this is where we come in, she needs a little bit of money to make this masterpiece into a reality on stage. Plus, there are some awesome perks to sweeten the deal!
Check out the Indiegogo page and make a pledge! ANY amount helps these characters come alive!
What's the show about?
Woody Allen said "80% of success is showing up." Apparently, comedic actress, Jenn Dodd, missed the memo. It's the opening night of her one woman show; friends, family and industry are all ready and waiting to see what this comedy gal has to offer. With the pressure rising and a misguided director who's cut all the funny lines from her show, our leading lady is nowhere to be found and the stage crew has to scramble. What happens when the one women who's show it is, is a no-show? Comedy chameleon, Jenn Dodd, plays all of the characters in this quirky, fast-paced comedy of errors.
Still no sure? Check out this hilarious video from Jenn Dodd!
Need More Info?
Indiegogo site- https://www.indiegogo.com/projects/no-show-a-one-woman-show
Jenn Dodd's Website- www.jenndodd.org
No Show: A One Woman Show website- https://www.jenndodd.org/p/no-show-one-woman-show.html