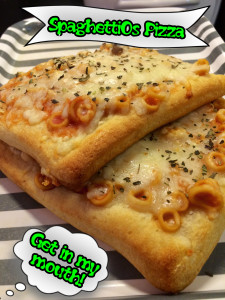 SpaghettiOs Pizza
A combo of your two favorite childhood foods in one dish!
Ingredients
Pizza Dough*

Shredded Mozzarella

1

can of SpaghettiOs

Your Favorite Pizza Toppings

Cooking Spray

Olive Oil

Italian Seasoning

optional garnish
Instructions
Preheat oven to 400 Degrees

Spray cooking sheet with cooking spray

Spread out PIZZA DOUGH on to greased cooking sheet

Lightly brush OLIVE OIL over PIZZA DOUGH

Bake for 7-8 minutes

Spread SPAGHETTIOS over partially cooked PIZZA DOUGH

Sprinkle TOPPINGS and SHREDDED MOZZARELLA on top

Bake for 7 to 8 more minutes OR until cheese is melted and crust is golden brown

Let cool 5 minutes before cutting and eating
Video
Notes
Feel free to substitute ENGLISH MUFFIN or ITALIAN BREAD for PIZZA DOUGH. Be sure to lightly toast bread with a small brushing of olive oil before topping with toppings and shredded mozzarella. Bake a few minutes until cheese is melted!
Adapted from Thrillist