Ever thought there could be a 400,00 square foot dairy bunker underground? Well, it's 100% true. Kraft houses its cheese in a 70 year old mine that back in the day housed explosives.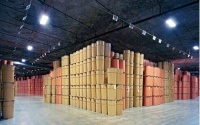 In Springfield, Missouri this cheesy mine sits next to a working limestone mine. The cool storage used to age my favorite Velveeta…. nope, it's just used as a cheap storage solution.
Find out more about this underground cheese mine and other secret caverns at this Wired article.