Boy if you love when pop culture and food collide, I've got just the thing for you! As a product of the 1980s, this cake made me do a double take. Not only is a Ghostbuster diorama, but it's edible… it's a cake. This is possibly tied with Stay Puft Caffeinated Marshmallows, as the best edible item with a Ghostbuster reference. And what's cooler, is the electric streams glow in the dark…. let's hope they don't cross! Ha!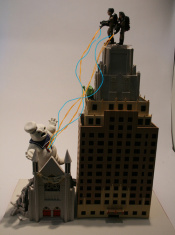 Who made the cake? Charm City Cakes… also the place for Food Networks Ace Of Cakes.
If you have time, check out some of their other cakes… they make you hungry AND curious! Love it!