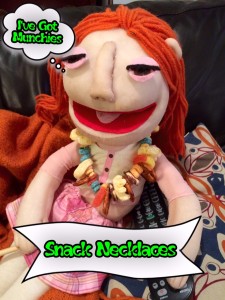 Snack Necklaces
A fun way to eat your favorite snacks, especially during marathon Netflix sessions!
Ingredients
String or Yarn

Cereal with holes

example- Cheerios, Froot Loops, Apple Jacks, etc.

Snacks with holes (example- gummy rings

pretzels, Funyons, cookies with holes in the center, mini donuts, Lifesavers, etc.
Instructions
Measure out the string for your necklace, making sure to leave enough length to get over your head, to tie and for snacks.

Cut String at appropriate length. (we recommend at least 28 inches)

String your snacks/cereal on the cut yarn/string alternating as you please, until you reach desire snack amount.

Tie the string.

Eat!
Video
Notes
These can be a tad messy depending on your snacks. Be careful- chocolate snacks will melt as you wear them!