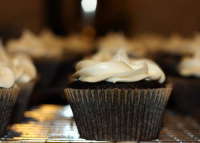 While roaming the interwebz for a new and interesting take on cupcakes, I came across this interesting recipe for a Dirty Girl Scout (which is a shot with Vodka, Kahlua, Creme de Menthe and Irish Cream). This great recipe teaches you the proper way to get that slightly intoxicating dessert rush. What's better than mixing booze and sweets? Nothing!
Check it Out at Instructables.com !
Also available an Irish Car Bomb cupcake from Smitten Kitten.